Kate's Summer Seasonal foods and her easy Jersey Royal New Potato Salad with Pesto, Peas and Broccoli recipe
SUMMER SEASONAL FOODS
I don't know about you guys but I'm so ready for the summer! With the change in season happening this month, it got me thinking about seasonal foods. There are many benefits to choosing foods that are in season…
Becoming at one with nature!

It gives us the chance to reconnect with nature's cycles, the natural passing of time and the delicious and diverse foods that's our seasonal climate provides.

It makes economic sense!

Seasonal foods tend to be cheaper as they grow in abundance and have less distance to travel – this, therefore, reduces the energy and CO2 emissions needed to grow and transport the foods and supports our local economies and communities.

Mother Nature's medicine!

Seasonal eating works in sync with our bodies and what we require to eat at certain times of the year. The foods that grow in abundance at these times are more nutritionally specific. This ensures we are supported as much as possible through our 4 different seasons.

I have put together a list of my top seasonal fruits and vegetables for summer, along with their nutritional and medicinal benefits. Try to incorporate these into your daily diet as much as possible; to help you feel your best throughout this new season.

Blackcurrants

– Helps regulate blood pressure, protect the brain against neurological damage associated with Alzheimer's and dementia, contain 3x as much vitamin C than oranges and combined with its high amount of antioxidants, help boost immunity, and promotes eye health.

Blueberries

– Slows the growth of prostate cancer, helps maintain a healthy gut due to containing antibacterial compounds, helps prevent cognitive decline and eye health.

Cherries

– Specifically Montmorency cherries – bright red in colour – the most medicinal of all cherries, are rich in antioxidants, anti-inflammatory, help promote sleep and increase insulin production.

Gooseberries –

Specifically Indian gooseberries – Are high in antioxidants and vitamins, especially vitamin C, helping to boost immunity, support memory and brain health, protect eye health and aids digestion.

Raspberries –

Minimise the absorption of fat, helps regulate metabolism, tone the uterus and are cancer-protective.

Rhubarb –

actually a vegetable not a fruit; helps strengthen bones, protects against neurological damage linked to Alzheimer's, helps lower cholesterol, is a good source of fibre and vitamin C and helps protect eye health.  

Strawberries –

Helps maintain optimal heart health by preventing blood vessel damage, helps soothe stomach upsets and aids digestion through its fibre content and contains anti-cancer properties.

Asparagus –

Helps to support the gut, removes energy-draining toxins, helps strengthen the immune system, has a purifying effect on the skin and helps keep blood vessels supple.

Artichoke –

An absolute fav of mine and here's why – It is among the top 10 highest antioxidant-rich foods, high in dietary fibre, eases digestion (particularly helpful in people with IBS), aids detoxification, helps balance blood sugar levels and reduces cholesterol.

Aubergine –

Opt for the purple variety as they contain fibre that benefits digestion, beneficial amount of antioxidants which help to balance blood sugar levels and prevent cell damage.

Beetroot –

Contains phytochemicals which have a liver cleansing action, improve blood's oxygen uptake, strengthens the heart, and contains a B vitamin that supports heart health.

Bell Peppers –

Rich in antioxidants and vitamins, especially vitamin C, they help support eye health, protect against neurological damage, and promote heart health and contain anti-cancer properties.

Broad Beans –

Rich in isoflavones which are plant hormones with heart-protective and anti-cancer properties.

Broccoli –

Another fav of mine and one of the veggies I make sure my kids have daily! It helps strengthen the immune system, contains vitamin C which promotes collagen synthesis, promotes prostate health, helps protect eye health, and is an excellent source of indole-3-carbinol, a chemical which helps DNA repair in cells and is believed to block the growth of cancer cells.

Cabbage –

Specifically red cabbage as it contains 2-8 times more vitamin C than other cabbages, but all brassica cabbages help to heal ulcers, support healthy liver function and fight free-radical damage to skin.

Carrots –

Rich in beta-carotene (needed by the body to make vitamin A), aid digestion, helps weight control, promote healthy skin and nails and helps maintain good eyesight.

Chilli –

Helps remove toxins from the body, clear congestion, helps with weight management by reducing appetite and cravings, helps lower cholesterol and regulate blood sugar levels.

Courgette –

Aids water balance, low in calories, cleansing, help reduce an enlarged prostate, lowers cholesterol and stroke risk and supports efficient metabolism.

Fennel –

Helps soothe stomach cramps, encourages healthy digestion, helps with hormone regulation through its oestrogenic qualities and helps relieve water retention.

Garlic –

Another daily must have for me, due to its antibacterial and anti-fungal compounds, its ability to help strengthen the immune system, remove toxins and pollutants, containing anti-cancer substances and being a natural anti-coagulant.

Jersey Royal New Potatoes –

Anti-inflammatory, helps lower blood pressure, a natural sedative, a good source of vitamin C, potassium, fibre, and B vitamins. Try to eat with the skin on as much as possible to increase fibre. 

Lambs Lettuce –

Similar looking to spinach, it's rich in beta-carotene (see 'carrots' above), supports a healthy immune system, promotes good skin and eye health and helps strengthen bones.

Pak Choi –

Part of the cabbage family (as above), containing powerful antioxidants contributing to protecting cells from free-radical damage.

Peas –

Specifically garden but including sugar snap and mange-tout – Rich in vitamins and minerals, their insoluble fibre content helps maintain digestive health, boost energy, fight infection, and promotes healthy sperm.

Radish –

Supports healthy liver function, helps with detoxification, lowers blood pressure, fights hypertension and clears congestion.

Spinach –

Helps strengthen bones, supports eye health, fights inflammation, helps prevent atherosclerosis and contains anti-cancer properties.

Spring Onions –

Contains immune-boosting sulphur compounds, helps lower cholesterol, and feeds the good gut bacteria.

Tomatoes –

Red tomatoes contain all four carotenoids, unlike the green and yellow variety; but all help to remove toxins from the body, boost immunity, lower cholesterol and reduce the risk of prostate cancer. 

Watercress –

Promotes clear skin, can help reduce the risk of cancers of the colon, rectum and bladder, aids optimal digestion, maintains water balance and help fight colds and flu.
Here's an easy and as always, healthy recipe that includes some of the foods listed above. Why not give it a try and take to one of the many BBQs you'll be attending over the summer?!
Jersey Royal New Potato Salad with Pesto, Peas and Broccoli
Serves 4 
Ingredients:
1Kg Jersey Royal new potatoes, chopped in half

2 heaped tbsp mayonnaise/vegan mayonnaise if required 

400g broccoli florets, chopped into bite size pieces

300g frozen garden peas 

Cracked black pepper, to taste
Pesto Ingredients:
2 tbsp nutritional yeast/vegan parmesan if required
Method:
Cut the potatoes in half so that they are roughly the same size

Place in a pan of salted boiling water for 20-25 mins until soft – poke one with a fork and if it slides off they are cooked

Whilst the potatoes are boiling, make the pesto…

Add the pesto ingredients above, except the olive oil, to a food processor. Blend until the pine nuts are broken down and the basil is chopped

Continue blending and slowly pour the olive oil into the mixture until it is smooth and turns into pesto consistency

Once the potatoes are cooked, drain them under cold water to cool them down

Bring a pan of boiling, salted water back to the boil. Add the peas and broccoli and let simmer for 6 mins or until the broccoli turns a bright shade of green. Drain and leave to one side to cool

Place the potatoes in a large bowl and add the pesto, mayonnaise, lemon zest, peas and broccoli and generous amounts of cracked black pepper. Use a large spoon, gently coat all the ingredients with the sauce and sprinkle a few pine nuts to finish.

Serve and enjoy! You can keep this in the fridge in an air tight container for up to 3 days.
Don't forget to share your creations with us here at BROOD by tagging us on Instagram @broodmagazine @the.devine.life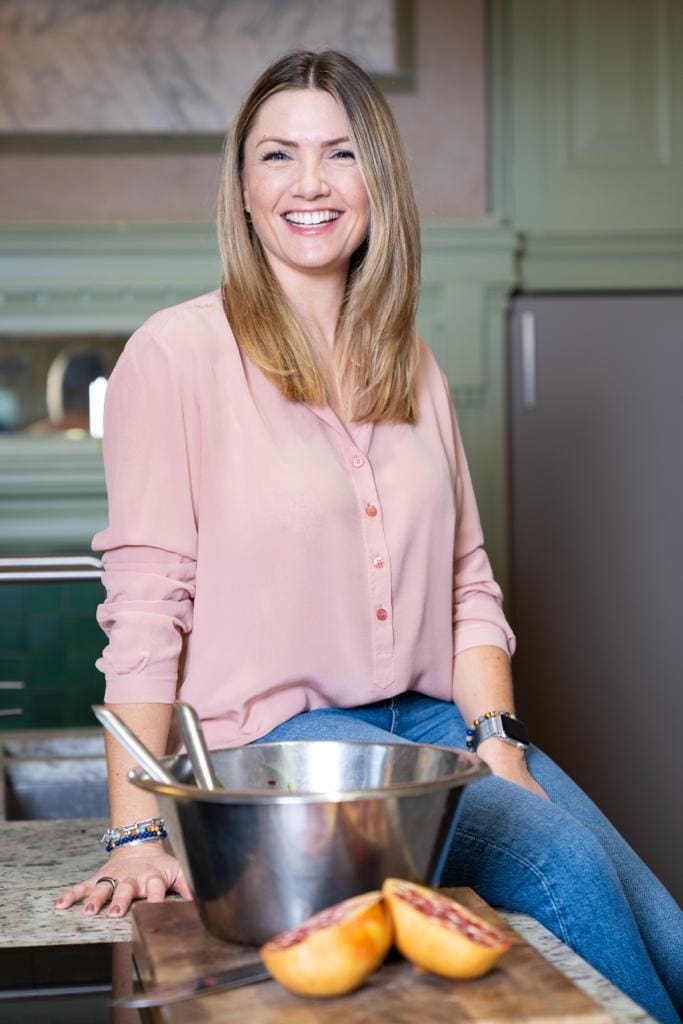 KEEP UP TO DATE WITH BROOD:
Our fine food columnist; Wood Restaurant owner and MasterChef Winner Simon Wood shares his best recipes for the all important Christmas Dinner
read more